Artisanal cheeses from the Côte d'Opale
Since 1990, we have been making our artisan cheeses on the Opal Coast in Wierre-Effroy. You can also visit the cheese dairy since the opening of our new premises in September 2018, which also offer a shop where you can buy our artisan cheeses live.
Our history with cheese really started in 1984, when Antoine Bernard started making Cabri Vert, a cheese whose milk comes from his goat herd. In 1988, he sold his herd and left with his bike, to train with the French cheese makers for more than a year. On his return, Antoine Bernard knows the trade perfectly and realizes that despite the many dairy cows present in the bolt, only a few farmers turn cow's milk into cheese… He then decided to create the Fromagerie Sainte Godeleine in 1990, as a cheese maker, to make only cow's milk cheeses. It begins with the famous Sablé de Wissant.
Everything follows very quickly with a collaboration between the famous refiner Philippe Olivier and the Fromagerie Sainte Godeleine, then new local cheeses are created. Joachim Bernard joined his older brother and they eventually joined in 2001.
For 30 years now, we have been creating artisanal cheeses in the Hauts de France region, with families and about 30 employees. If you visit the Opal Coast, you can easily find local cheeses in supermarkets, retailers, bars, hotels and restaurants, etc. If you don't know them yet, here's our classic range:
Sablé de Wissant : Pasteurized cow's milk cheese, it is sweet but strong of character! From the family of washed rind soft pasta, it has a texture similar to that of Reblochon but a very different taste. Its crust is washed with white Wissant beer, a local beer from the Côte d'Opale and at the end of maturing, Wissant Shortbread is coated with bread crumbs. Do not remove its crusts to eat it, they give it a very pleasant texture.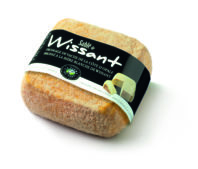 Ecume du Wimereux :with the Shortbread of Wissant, it is an emblematic cheese of the Opal Coast! This small white round of 200g is a double cream cheese, soft dough and flowery crust. Thanks to the addition of cream in the milk, we obtain a creamy and very greedy texture, a taste rich in milk and slightly iodized. This little touch of salt and the white color of this local cheese recall the sea foam on the beautiful beach of Wimereux.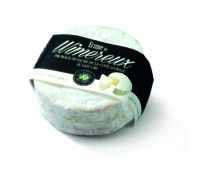 Mimolette de la Côte d'Opale: Native of Nord Pas-de-Calais, we love the mimolette! We wanted to reinterpret this famous Northern cheese by creating our own raw milk mimolette, a milk that we have kept whole to guarantee a very soft texture! Did you know that it took almost 30 liters of milk to make a 3.5 kg ball of mimolette?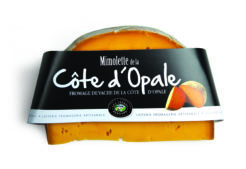 Pavé de Calais :In homage to the orange bricks of the houses of Nord Pas-de-Calais, the Pavé de Calais is entirely orange. Indeed, we add Rocou to it from the beginning of the manufacturing process. It is the natural dye that gives the orange color to the mimolette. Sometimes, the Pavé de Calais gives off a slight bitterness when it is well ripened.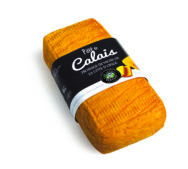 Le Camembert du Boulonnais : Avec la mimolette de la Côte d'Opale, il s'agit de notre seule réinterprétation fromagère (les autres fromages sont des créations originales). Notre camembert est au lait cru de vache, affiné pendant au moins 3 semaines afin d'obtenir une pâte crémeuse homogène. Le Camembert n'est pas une Appellation d'Origine Protégée, contrairement au Camembert de Normandie. De ce fait, toutes les régions peuvent fabriquer du camembert et comme nous avons beaucoup de vaches laitières dans le boulonnais (et un climat proche de celui en Normandie), pourquoi s'en priver ? D'autant que ce fromage est une demande de nos clients qui ont réclamé un « camembert du Boulonnais » (le nom était tout trouvé, ne restait plus qu'à élaborer la recette).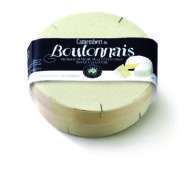 Fort d'Ambleteuse :this soft washed rind cheese is brushed with Brunembert cider. This brushing gives it a fruity taste that appeals to younger cheese lovers. The Fort d'Ambleteuse is an ideal cheese for cooking, instead of raclette cheese for example.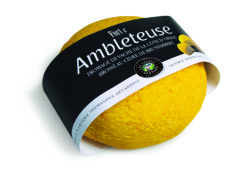 Fleur d'Audresselles : Another soft cheese with a washed crust, Fleur d'Audresselles is rubbed with sea salt to give it a thicker and tastier crust. This cheese, which is easy to use in the kitchen, is also obviously sufficient for itself. Its name comes from the small village of Audresselles, located on the Opal Coast, where the air is particularly iodized.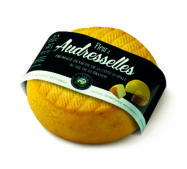 Dôme de Boulogne: This 450g cheese, whose shape recalls the dome of the basilica Notre Dame de Boulogne sur mer, is a soft paste with a flowery crust. He knew his moment of glory by being served at the table of the President of the Republic and the Queen of England, during the inauguration of the Channel Tunnel. It is a raw milk cheese, enriched with cream, from the family of soft pasta with flowery crust.
Fruité du Cap Gris Nez: Small round cheese from the family of soft pasta with washed rind, brushed with the blonde beer of 2 Caps (local beer created by Christophe Noyon), it is loved by young and old. This orange cheese with a creamy heart, sweet and fruity, takes its name from a wild and emblematic place of the Opal Coast.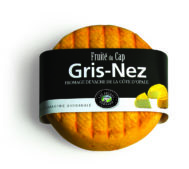 You can find these cheeses from the Opal Coast in our shop in Wierre-Effroy and in our distributor customers. In the Hauts de France region, we work with large and medium-sized supermarkets, dairy retailers, bars and restaurants, as well as guest houses. So you can easily find our artisan cheeses in the region!
LES FROMAGES ARTISANAUX DE LA CÔTE D'OPALE | 2020-03-16 , Manon